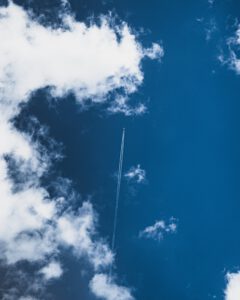 VACANCY
Freight Forwarder
Vacancy / open role
Freight Forwarder.
Ready for a new challenge in a company that always thinks one step ahead? Based in Amsterdam Airport and Oslo Airport, Avi Air is looking for energetic and sociable colleagues.
Avi Air is a specialist in air freight solutions, with an emphasis on fresh products. With over 25 years of experience, we continuously strive for improvement, going the extra mile for our customers, colleagues, and for the team. We believe in optimisation and in being proactive, rather than merely reacting to what is happening around us. Our success is the result of our efficiency and innovation, and in our close collaboration with partners from production to consumption.

The Role:
As a Freight Forwarder, you will be responsible for planning and coordinating the supply chain for our customers, ensuring a seamless execution of transportation from A to Z, in collaboration with the team and suppliers.
If you are an energetic and responsible person who enjoys working in a diverse and driven team, then this is the perfect opportunity to further develop yourself as a Freight Forwarder.

Main responsibilities include:
Taking full responsibility for shipments from request to delivery, maintaining daily contact with customers and suppliers to ensure an accurate, high-quality, and efficient execution.
Purchasing and reselling air freight capacity. Preparing, managing, and verifying documentation for shipments, including shipping and customs documentation in the various systems.
Proactively monitoring and managing the logistical execution of transport operations, ensuring smooth coordination and timely delivery of shipments.
Planning and coordinating the logistical process, optimising resource allocation and ensuring an efficient workflow.

Requirements:
An education or background in logistics or supply chain management is preferred.
Previous experience in logistics and supply chain management is a plus.
Proficiency in the use of logistics management systems and software.
Fluent in English.
You reside within a radius of 50 kilometres of either our Schiphol or Oslo Airport office (Schiphol office located at Boeing Avenue 8, Schiphol-Rijk).
You possess a valid EU work permit.

Skills:
Strong attention to detail, and excellent organisational skills.
Comfortable in a fast-changing environment.
Prioritisation and decision-making.
Excellent communication and interpersonal skills.
Being proactive and thinking on your feet.

The team:
You will join an enthusiastic and diverse team of 20 colleagues from the Netherlands, Norway, Venezuela, Brazil, Greece, and Moldova. English is the main language. Our team has a start-up mentality that encourages direct communication in an informal atmosphere. We work closely together. Tasks are distributed to make the most of everyone's strengths. We are always ready to help one another and to tackle priorities.

The work environment:
Our modern office is conveniently located at Schiphol, with private parking underneath the building, and easy access to public transportation. You will work in a welcoming, open, and bright space, with a fully stocked kitchen that also serves as our main meeting room.

What we offer:
Salary up to € 3.725,- per month, excluding 8% holiday pay, based on experience and education.
Good secondary employment conditions such as pension contribution, variable remuneration, and study cost arrangement.
Smartphone and laptop (including subscription).
Daily freshly prepared lunch at the office.
Travel expenses.
Interested?
If you think you can contribute to the team, please send your CV with a covering letter to hello@aviairfresh.com for the attention of Anouk Keijzer. Questions? Call us at +31 854 832 420. We hope to meet you soon for an introduction at our office.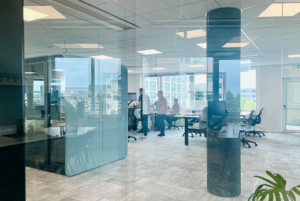 Avi Air office Amsterdam Airport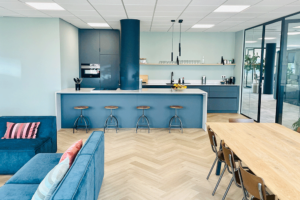 Avi Air office Amsterdam Airport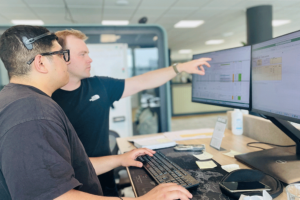 Avi Air office Amsterdam Airport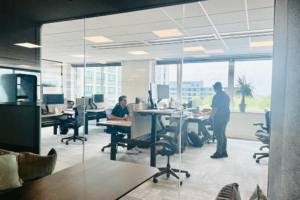 Avi Air office Amsterdam Airport
our approach
In this business people make the difference. So who are we and what makes us tick?
read more